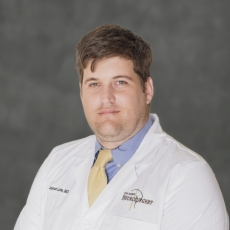 Jayson Lavie, MD
* Member of the AdventHealth Medical Group
‡ Member of Orlando Neurosurgery
Neuroradiologist
Dr. Lavie is board certified in Radiology by the American Board of Radiology, and he is fellowship-trained in both diagnostic neuroradiology and endovascular surgical neuroradiology. He attended Vanderbilt University for his undergraduate studies before receiving his medical doctorate at LSU School of Medicine. He completed his internship in internal medicine and his radiology residency at Ochsner Clinic Foundation in New Orleans, Louisiana, before relocating to the Mallinckrodt Institute of Radiology at Washington University for his fellowship training in Saint Louis, Missouri.
Dr. Lavie's research and publications have encompassed neuroradiological and endovascular health-related topics, such as occipital arteriovenous fistula, mechanical thrombectomy, Moyamoya syndrome, and acute ischemic stroke. He has also presented research on stroke, carotid web, and the techniques of neurointerventional surgery.
Over the course of his studies, Dr. Lavie received numerous awards for academic excellence, and he is a member of the Society of Neurointerventional Surgery, the American Society of Neuroradiology, and the American College of Radiology. He has also participated in manuscript reviews and peer-reviewed publications through the Journal of Neurointerventional Surgery.
Education
Medical School:
LSU School of Medicine - New Orleans, LA
Residency: 
Radiology at Ochsner Clinic Foundation - New Orleans, LA
Fellowships:
Diagnostic Neuroradiology at Mallinckrodt Institute of Radiology at Washington University - Saint Louis, MO
Endovascular Surgical Neuroradiology at Mallinckrodt Institute of Radiology at Washington University - Saint Louis, MO