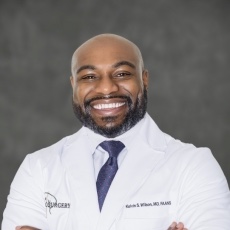 Kelvin Wilson, MD
* Member of the AdventHealth Medical Group
‡ Member of Orlando Neurosurgery
Neurosurgeon
Dr. Wilson is board certified in Neurosurgery by the American Board of Neurological Surgery. He received his medical training from the James H. Quillen College of Medicine at East Tennessee State University. He completed his training as a resident in Neurological Surgery at the University of Florida in 2016 where he broke ground by becoming the first African American graduate of that program and received the Chuck Shank Award for Excellence in Neurosurgery. Subsequently, he was the attending neurosurgeon and the Director of Minimally Invasive Spine Surgery at the Brooke Army Medical Center in San Antonio, TX . Dr. Wilson served as a Major in the U.S. Army Medical Corps from 2010-2021. While on active duty, Dr. Wilson eagerly sought advanced specialty training in diagnosing and managing spine-related pathology, developing expertise in full-spectrum, comprehensive spine care, and spine neurotrauma.
Dr. Wilson's areas of special interest include neuronavigation, spinal robotics, and biomedical device development. He has published four articles in peer-reviewed journals. He underwent additional training in both minimally invasive and complex spine surgery to bring a practical and highly personalized approach to the subspecialty of spine surgery.
Dr. Wilson has received several awards, including the Phillip Hinton, MD Career in Surgery Award as well as the Outstanding Performance in Surgical Clerkship Award. He's been recognized by the Alpha Omega Alpha Honor Medical Society and the Gold Humanism Honor Society. He is currently a BAMC Top 5 provider.
Education
Education: 
East Tennessee State University
Residency:
Neurological Surgery at University of Florida College of Medicine
Board Certification:
Neurological Surgery: The American Board of Neurological Surgery